Leithart's thoughts after the Wilson-Sullivan gay marriage debate.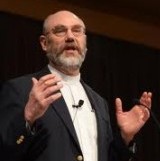 "Perhaps Christians are called to do no more than speak the truth without worrying about persuasiveness. Perhaps we have entered a phase in which God has closed ears, so that whatever we say sounds like so much gibberish. We can depend on the Spirit to give ears as He pleases." -Peter Leithart

You can read the rest of Leithart's remarks at his First Things post, Gay Marriage and the Christian Imagination.