Who is the true family of God? (Mat 12.46-50)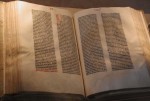 One of the burning questions of Scripture is, who is the true family of God? "That's easy," you think, "its Israel." Yes, but how is Israel defined? That is the question Jesus is addressing in His cryptic response when His mother and siblings come seeking to speak with Him. (Mat 12.46-50.) Jesus had just been analogizing that generation of Israel to a demon possessed man, cleansed by Jesus, who does not invite Jesus in, and whose "house" therefore sits vacant, beckoning the demon, along with seven of his friends, to move back in. (Mat 12.22, 39, 43-45.) And that raises the question, how is Israel – God's "house," His "household," His "family" – defined?
Is God's family defined by the blood of Abraham? That is exactly what many Israelites thought in the first century, just as many of their ancestors had before them. But John the Baptist, who prepared the way for Jesus, cut directly across that notion:
Bear fruit worthy of repentance, and do not say to yourselves, "We have Abraham as our father." For God is able to raise up children to Abraham from these stones. (Mat 3.8-9.)
Many Jews were offended at this, regarding it as a fundamental betrayal of their status as Israelites. But as Jesus, and later Paul, would make clear, the family of God was always founded on faith. (John 8.56; Rom 4.11-12, 16; Gal 3.8-9.) If one didn't have the faith of Abraham in one's heart, it did no good to have the blood of Abraham in one's veins. To make this very point, God had in times past reconstituted His people around a deliverer who foreshadowed Christ. Moses and David are prime examples. This was God's way of prefiguring Christ and calling His people to rally around His presence, His Spirit, His word. If you did not believe God's word and follow the deliverer, whether Moses or David, you were cut out of God's family. (Acts 7.37-39; Heb 3.16-19.)
Now with the coming of Jesus, God is reforming His family one final time. And the criteria is faith in Jesus, the Greater Moses and Greater David. Faith in Jesus is the first step in doing the will of the Father. (John 6.29; 1John 3.23.) And doing the will of the Father is the family trait shared by all God's children. (Mat 12.50.) Now we know finally and definitively who is the family of God. (Eph 2.19; 1Tim 3.15; Heb 3.5-6.)

Who is the true family of God? (Mat 12.46-50) by Alan Burrow, unless otherwise expressly stated, is licensed under a Creative Commons Attribution-NonCommercial-NoDerivs 3.0 Unported License.