My favorite "Wayfaring Stranger"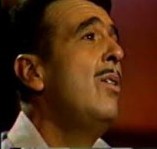 Of all the versions I have heard of "Wayfaring Stranger," this is my favorite. This is Tennessee Ernie Ford singing with a lone guitarist on Ford's television show way back in the late 1950's. What makes this version stand out to me is Ford's voice (if you haven't heard it, treat yourself), the sparseness of the instrumentation (which suits the song), and the classical guitar (which is a performance in itself without ever getting in the way of the vocals).



My favorite "Wayfaring Stranger" by Alan Burrow, unless otherwise expressly stated, is licensed under a Creative Commons Attribution-NonCommercial-NoDerivs 3.0 Unported License.